The
Offer of Programmes
The Mystery of Japanese Bamboo Flute
Concert of traditional pieces for Japanese bamboo flute shakuhachi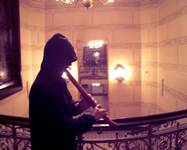 San-Kyomu - Three Emptiness
The pieces for Japanese bamboo flute shakuhachi - a musical instrument of the "monks of Nothingness" of Fuke sect of Zen-Buddhism from Japan medieval times.


Vlastislav Matoušek: Calligraphy for Voice and Bamboo
Songs for voice and Japanese bamboo flute on ancient Japanese poetry from the anthology "One Hundred Poems by One Hundred Poets" performed by Vlastislav Matoušek and his guests - Klárka and Veronika Matouškovy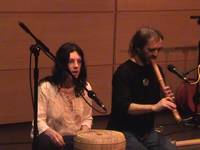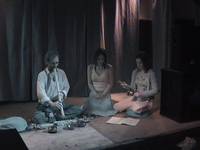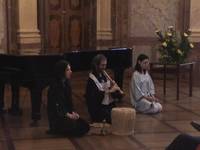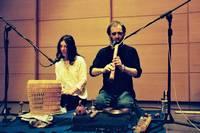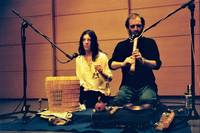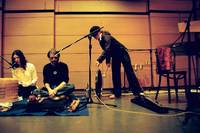 Suizen - Blowing Meditation
Concert of traditional pieces for Japanese bamboo flute shakuhachi on the tradition at Fuke sect of Zen-Buddhism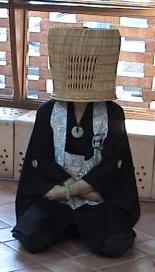 San'ya - Three Valley
Japanese traditional music for shakuhachi

Yobi Take, Call of the Bamboo - "the Songs without Words"
Concert of pieces of the "monks of Nothingness" from ancient Japan for Japanese bamboo flute shakuhachi

The Empty Bell of the master Pchu-Hua
Concert of traditional pieces for shakuhachi fukezen Honkyoku
The Murmuring of the Wind Blowing through the Bamboo Grove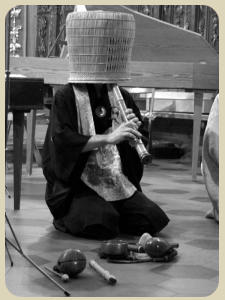 Labyrinthus
Vlastislav Matoušek: Contemporary pieces for Japanese bamboo flute shakuhachi and voices based on texts of scriptures sacred (Mandukyopanishad, Tao te ting, Tora, New Testament, Quaran, Lin-ti lü, Popol Vuh)


Vox clamantis
Vlastislav Matoušek: The composition for voices, shakuhachi and sounds of nature
Inside the Circle - In Circulo
Concert of traditional and contemporary pieces for Shakuhachi performed by Vlastislav Matoušek ...


Kyomu - Emptiness
Traditional and contemporary compositions for Japanese bamboo flute shakuhachi performed by Vlastislav Matoušek


Suizen - "Blowing Zen"
Spirituality as Music and Music as Spiritual Practice
Until the middle of the 19th century the shakuhachi bamboo flute, nowadays nearly the main symbol of the Japanese musical tradition, functioned not as a musical instrument but primarily as a religious tool exclusive to the Zen-Buddhist Fuke sect.
Whilst the sect's komusó - or 'monks of nothingness' - spent most of their time playing shakuhachi, they did not regard themselves as musicians, for the musical activity which they engaged in, and which the uninitiated observer would surely term 'playing the flute', was actually just a form of Zen - meditation in which esoterically transmitted pieces of music now referred to collectively as honkyoku (lit. 'basic pieces') were performed on the instrument.
This manner of playing the shakuhachi (known as the fuke style), as has come down to us primarily through the traditions of the Myóanji ('light and darkness') temple in Kyoto, is first and foremost a manifestation of the Zen, of its emphasis on the real and true, its focus on the essence, its rejection of that which is external, superficial. Its ideal in sound is 'the murmuring of the wind through the bamboo grove', and its basic principal is that of ichi on jóbutsu, or one sound-Buddhahood.
The komusó monks' way of life was a highly unusual one. The ability to prove one's samurai origins was a prerequisite for entry into the sect, and its ascetic philosophy demanded that every member should spend at least three days in every month engaged in takuhatsu, or the requesting of alms (for the temple as well as for their own food) by playing the shakuhachi. Outside the temple the monks were required to wear a tengai, a strange hat of igusa straw that came down so low as to completely cover their faces and thus provide absolute anonymity. They would often introduce themselves using only the name of their temple, or else they did not speak at all but merely played honkyoku on their flutes.
The esoteric night-time ceremonies that took place in the Fuke temples are said to have incorporated the longest and most important compositions as for exemple San´ya - "Three Valleys", Kyorei - "Empty Bell", Kokú - "Empty Sky", or Mukaiji - "Flute in the Misty Sea". Those are the pieces which you can hear at the performances of Vlastislav Matoušek.

Doc. Vlastislav Matoušek, Ph.D.
He studied Composition and post-gradual courses in Musical Theory at the Academy of Performing Arts, the Faculty of Music in Prague where he has been teaching ethnomusicology since 1991. There he received his Ph.D. degree in theory of composition. Six months as a fellow of Japan Foundation he studied shakuhachi playing at Kifu Mitsuhashi and Japanese Traditional Music at Prof. Osamu Yamaguti in Japan (1996).
In his ethnomusicological research he focuses on Extra-European Cultures, exotic and folk musical instruments, rhythm and kinetics (book Rhythm and Time in Ethnic Music –Togga, Prague 2003). He have been active as a musical journalist, especially with the Czech Radio in Prague.
He is the author of eccentric compositions, often with the participation of exotic instruments. He prefers non-traditional means of expression and compositional procedures.
As a concert performer he plays shakuhachi honkyoku (CD Calligraphy - Angel 1999, CD Taki Ochi – Arta Rec. 2003, CD Calligraphy II - Nextera 2004) and presents his compositions for exotic and folk instruments from his own extensive collection, often in combination with electronics (CD Shapes of Silence - Transmusic 1994, Nextera 2006).
He plays Eastern-Czech folk and medieval music on the historical Czech "moldánky" bagpipes, hurdy-gurdy, platerspiel, and other ancient and folk instruments with his own ensemble Schola Specialis.
Since 1979 he has been playing meditation and Orient inspired music on percussion and various other ethnic instruments (especially Indian tabla and various folk flutes) in the group Relaxace (CD Dhjána, CD Kadael, CD Czech Kóan, CD Morning Prayer, CD Indian Inspiration etc.).
contact mail: matousek@shakuhachi.cz