Christopher "Yohmei" Blasdel

Born 1951 in Texas. began the shakuhachi and studies of Japanese music in 1972 with shakuhachi master, Living National Treasure Goro Yamaguchi. He received a teaching license and the professional name "Yohmei" from Yamaguchi in 1984. At the same time, he completed graduate work in ethnomusicology at Tokyo University of Fine Arts and Music. A permanent resident of Japan, he has performed, taught and lectured throughout China, Thailand, Europe, North America, Mexico, India, Malaysia and the former Soviet Union and Eastern Europe. He has been a visiting artist in residence at Earlham College, Richmond Indiana, guest professor at the Faculty of Fine and Applied Arts, Chulalongkorn University, Bangkok, invited artist at the Atlantic Center for the Arts, resident of Centrum Arts Center and recently awarded an Asian Cultural Council grant to study the transmission of Thai traditional music. He was an executive director of the Boulder World Shakuhachi Festival 1998 and is the artistic director of the Fukuoka Gendai Hogaku Festival for contemporary Japanese music.
His book, "A Shakuhachi Oddyssey," written in Japanese, is published by Kawade Shobo Shinsha and was awarded the prestigious Rennyo Award for non fiction.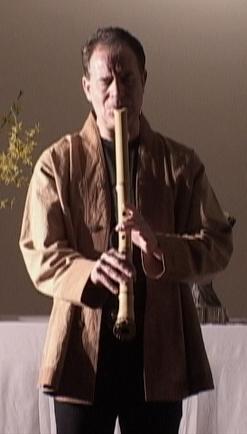 In his musical activities, Blasdel maintains a balance between traditional shakuhachi music, modern compositions and cross-genre work with a great variety of well-known musicians, dancers, poets, and painters, both Western and Eastern. Blasdel presently performs, teaches, and records in Japan and around the world. He works as Advisor to the Arts Program at the International House of Japan, is part-time lecturer at International Christian University and Temple University in Tokyo, teaches privately at the Asahi Culture Center in Shinjuku and writes regularly for The Japan Times.

A Shakuhachi Odyssey

The Shakuhachi, a Manual for Learning




Ch. Y. Blasdel again in Prague - 2006

Since April 24 to May 2,2006 will be in Prag again the shakuhachi master of the school Kinko, important apprentice of Goro Yamaguchi, Christopher Yohmei Blasdel.
April 26, 2006
13:20 – 15:00 Lecture at Institut of Musicology, Faculty of Philosophy & Arts, Charles University, Prague
Palachovo náměstí, Prague 1
18:00 – 20:00
Visit of Shakuhachi group Yobi Take Puhara Collegium at Czech – Japan Society Na Můstku 8/380, Prague 1 (
April 27, 2006
13:40 – 15:10 Lecture at HAMU for students of composition, instruments, etc.
19:30 Concert at "Na prádle" Church, Prague 1 – Malá strana (near HAMU)
April 29 - 30, 2006
Workshop on playing shakuhachi at Czech – Japan Society, Na Můstku 8/380, Prague 1
Saturday April 29, 2006 10,00 - 11,30 13,00 - 15,00
Sunday April 30, 2006 10,00 - 11,30 13,00 - 15,00

May 1, 2006 at 16:00 a party with participants of workshop
in wine cellar at wineyard Saint Clara in Prague – Troya (wineyard is a part of Prague Botanical Garden), we talk about participating of representantives of Ambassy of Japan in Czech Republic and Czech – Japan Society
May 2, 2006
19:00 Concert at "Atrium", Čajkovského 12, Prague 3 - Žižkov
small dinner at the end of a stay
Ch. Y. Blasdel in Prague - 2003
Since March 21,2003 to March 25, 2003 was in Prag the master of playing Japan bamboo flute shakuhachi of the school Kinko, important apprentice, Goro Jamagučiho, Christopher Yohmei Blasdel.
Since 22.3. to 23.3. he was leading the intensive course of shakuhachi playing at an Japan restaurant Miyabi. Monday March 2003, 24 he was leading a lecture "The Aesthetics of Shakuhachi Music" at Institute of Musicology FF UK, then he was playing at the concert of traditional and contemporal pieces for shakuhachi in evangelical church St. Salvator.